Marshall who?
Biography
McLuhan was still a twenty-year old undergraduate at the University of Manitoba, in western Canada, in the dirty thirties, when he wrote in his diary that he would never become an academic. He was learning in spite of his professors, but he would become a professor of English in spite of himself. After Manitoba, graduate work at Cambridge University planted the seed for McLuhan's eventual move toward media analysis. Looking back on both his own Cambridge years and the longer history of the institution, he reflected that a principal aim of the faculty could be summarized as the training of perception, a phrase that aptly summarizes his own aim throughout his career.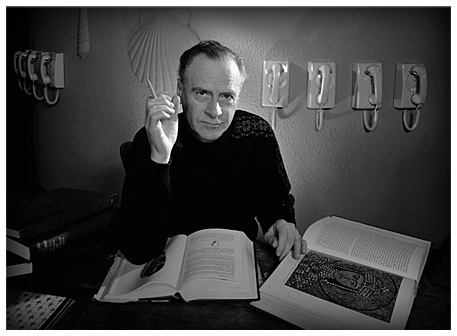 The shock that McLuhan experienced in his first teaching post propelled him toward media analysis. Though his students at the University of Wisconsin were his juniors by only five to eight years, he felt removed from them by a generation. He suspected that this had to do with ways of learning and set out to investigate it. The investigation led him back to lessons on the training of perception from his Cambridge professors, such as I.A. Richards (The Meaning of Meaning, Practical Criticism), and forward to discoveries from James Joyce, the symbolist poets, Ezra Pound; back to antiquity and the myth of Narcissus, forward to the mythic structure of modern Western culture dominated by electric technology.
Understanding Media, first published in 1964, focuses on the media effects that permeate society and culture, but McLuhan's starting point is always the individual, because he defines media as technological extensions of the body. As a result, McLuhan often puts his inquiry and his conclusions in terms of the ratio between the physical senses (the extent to which we depend on them relative to each other) and the consequences of modifications to that ratio. This invariably entails a psychological dimension. Thus, the invention of the alphabet and the resulting intensification of the visual sense in the communication process gave sight priority over hearing, but the effect was so powerful that it went beyond communication through language to reshape literate society's conception and use of space.
Understanding Media brought McLuhan to prominence in the same decade that celebrated flower power. San Francisco, the home of the summer of love, hosted the first McLuhan festival, featuring the man himself. The saying "God is dead" was much in vogue in the counterculture that quickly adopted McLuhan but missed the irony of giving a man of deep faith the status of an icon.
Spectacular sales of Understanding Media, in hardback and then in paperback editions, and the San Francisco symposium brought him a steady stream of invitations for speaking engagements. He addressed countless groups, ranging from the American Marketing Association and the Container Corporation of America to AT&T and IBM. In March 1967, NBC aired "This is Marshall McLuhan" in its Experiment in TV series. He played on his own famous saying, publishing The Medium is the Massage (co-produced with Quentin Fiore and Jerome Agel), even as he was signing contracts for Culture Is Our Business and From Cliché to Archetype (with Canadian poet Wilfred Watson) with publishers in New York. Dozens of universities awarded McLuhan honorary degrees and he secured a Schweitzer Chair in the Humanities at Fordham University.
At the University of Toronto's Centre for Culture and Technology, where McLuhan was director, a steady stream of visitors arrived from around the world to absorb his lessons on media, or just to see him and be seen with him. Andy Warhol was scheduled to visit but did not show (when McLuhan finally met him some time later, he pronounced him a "rube"); John Lennon and Yoko Ono arrived unannounced. Understanding Media, which was eventually translated into more than twenty languages, overshadowed the only McLuhan book-length publication from the 1960s that took him back squarely to his roots as a professor of English literature, the two-volume Voices of Literature (edited in collaboration with Richard J. Schoeck). By the time the decade ended, he had collaborated with Canadian artist Harley Parker on Through the Vanishing Point: Space in Poetry and Painting and once more with Quentin Fiore and Jerome Agel on War and Peace in the Global Village. This popular paperback, exploding at every page with McLuhan's observations juxtaposed to a visual chronicle of twentieth century happenings, bore the improbable subtitle, an inventory of some of the current spastic situations that could be eliminated by more feedforward. The book looks and feels light years away from the Cambridge University of the 1930s where McLuhan trained, but that was just where he had picked up the idea of feedforward from his teacher I. A. Richards.
McLuhan wrote with no knowledge of galvanic skin response technology, terminal node controllers, or the Apple Newton. He might not have been able even to imagine what a biomouse is. But he pointed the way to understanding all of these, not in themselves, but in their relation to each other, to older technologies, and above all in relation to ourselves our bodies, our physical senses, our psychic balance. When he published Understanding Media in 1964, he was disturbed about mankind's shuffling toward the twenty-first century in the shackles of nineteenth century perceptions. He might be no less disturbed today. And he would continue to issue the challenge that confronts the reader at every page of his writings to cast off those shackles.
– By Terrence Gordon (July 2002)
W. Terrence Gordon is the author of the biography, Marshall McLuhan: Escape into Understanding (Gingko Press. ISBN 1-58423-112-2).
CV & History
Herbert Marshall McLuhan
Born in Edmonton, AB, Canada on July 21, 1911
University of Manitoba: B.A., 1932; M.A., 1934
Cambridge University: B.A., 1936; M.A., 1939; Ph.D., 1942
Taught at University of Wisconsin (Madison): 1936-1937
Taught at St. Louis University: 1937-1944
Married Corinne Keller Lewis of Fort Worth, TX in 1939
Taught at Assumption University (Windsor, Ontario): 1944-1946
Taught at St. Michael's College, University of Toronto: 1946-1979, became a full professor in 1952
Chairman of Ford Foundation Seminar on Culture and Communication, 1953-1955
Co-Editor of Explorations magazine, 1954-1959
Director of Project in Understanding New Media for National Association of Educational Broadcasters and U.S. Office of Education, 1959-1960
Appointed in 1963 by the President of the University of Toronto to create a new Centre for Culture and Technology to study the psychic and social consequences of technologies and media
Fellow of the Royal Society of Canada, 1964
Companion of the Order of Canada, 1970
Died in his sleep on December 31, 1980
Honorary Degrees
University of Windsor, D. Litt., 1965
Assumption University, D. Litt., 1966
University of Manitoba, D. Litt., 1967
Simon Fraser University, LL.D., 1967
Grinnell University, D. Litt., 1967
St. John Fisher College, Lit. Hum., 1969
University of Alberta, LL. D., 1971
University of Western Ontario, D. Litt., 1972
University of Toronto, D. Litt., 1977
Awards
Honorary Award in Culture and Communication (Niagara University, New York), 1967
Molson Award for Outstanding Achievement in the Social Sciences, 1967
Appointment to the Albert Schweitzer Chair in the Humanities (Fordham University, New York), 1967-1968
The Institute of Public Relations President's Award (Great Britain), 1970
Gold Medal Award from President of the Italian Republic at Rimini, Italy, in recognition of original work as philosopher of the mass media, 1971
Christian Culture (Assumption University), 1971
President's Cabinet Award (University of Detroit), 1972
Vatican appointment as Consultor of the Pontifical Commission for Social Communications, 1973
Citation from The Religious Educational Association of the United States and Canada, 1973
Civic "Award of Merit" given by Mayor David Crombie at Toronto City Hall, 1974
"Man of Achievement" Diploma from the International Biographical Centre (Cambridge, England), 1975
Appointed to the McDermott Chair at the University of Dallas, April-May 1975
Distinguished Lectures
Second Annual A.V.B. (Geoghegan Lecture, University of Pennsylvania), 1966
Marfleet Lectures (University of Toronto), 1967
Purves Memorial Lecture, American Institute of Architects (New York), 1967
Congressional Breakfast (Washington, D.C.), 1970
Gillett Lecture Series (University of Western Ontario), 1970
Mary C. Richardson Lecture, State University College of Arts and Science (Geneseo, New York): 1970
Gerstein Lecture Series (York University, Toronto): 1971
The fourth annual Pound Lecture in the Humanities (University of Idaho), 1978